I'm joining Vintage Thingie Thursday at Coloradolady!
& Time Travel Thursday at Brambleberry Cottage!
& Thrifty Things Friday at The Thrifty Groove!
I'm sharing a vintage St. Patrick's Day greeting card.
It has a 1 cent stamp and is postmarked with the year 1912.
It's not in perfect shape, but hey, it's 100 years old.
The sweet poem is difficult to read, so I've added it below,
and used the exact punctuation on the card.
I'm just a little American girl,
I can't do the Irish lilt
I can't even dance the Highland fling
Though I'd try, if I had a kilt.
My gown is green my hair is red
But my folks are American born and bred
And I'm bringing you in my American way,
Greetings for St. Patrick's Day
Now if that isn't just the cutest!
Here's a peek at 2 more vintage postcards I'll
be using in my St. Patrick's Day tablescape.
Joining the fun at: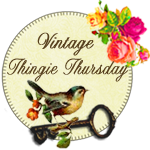 See sidebar for links and come visit!